Since 2005, over 375,000 patients have been treated safely with Balloon Sinuplasty, a minimally-invasive in-office procedure.
Have you been taking too many medications or antibiotics to treat the pain associated with chronic sinusitis? You may be a candidate for the Balloon Sinuplasty procedure. Balloon Sinuplasty (or balloon sinus dilation) is a safe, effective, clinically-proven option that improves sinus sufferers' quality of life.
Balloon Sinuplasty is less invasive than traditional sinus surgery and effective at relieving symptoms of chronic sinusitis. Balloon Sinuplasty allows patients to return to normal activities – such as work or school – quickly. And best of all, this innovative procedure does not include cutting to remove bone or tissue from the nose.
How can a little balloon help
me?
Dr. Martini will first locate the sinus area to be drained.
The device is carefully positioned. Dr. Martini will gently inflate the small balloon and dilate the treatment area to restore drainage.
The balloon is removed from the treatment area.
State-of-the-Art Sinus Care Technology

Dr. Martini is the only Ear, Nose and Throat specialist in the Tri-State area to offer the convenience of in-office computer image guidance. This amazing technology allows your sinus care team to see the sinus opening within one millimeter, which can mean a shorter procedure, fewer complications and less pain for patients.
Allergy Testing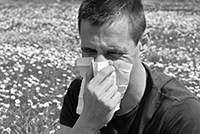 Sniffling, itching, fatigue. These are just some of the symptoms which accompany an allergic reaction. Dr. Martini offers on-site allergy testing to determine the exact cause of your allergies. Dr. Martini and his staff of allergy specialists will work with you to design a treatment plan to calm your immune system's overreaction and alleviate your symptoms.
‍
Immunotherapy

Immunotherapy treats the cause of allergies instead of covering up the symptoms. Allergy shots address the root causes of allergies and gradually desensitize your body to allergens over time, causing your body to react less severely or not at all.
Allergy Drops
Dr. Martini offers oral (sublingual) allergy drops to treat allergy sufferers. Oral drops that contain small amounts of allergens – such as dust mites, grasses, pollen, and mold – safely and effectively desensitize your body to react less over time. Oral allergy drops work to treat the cause of allergies instead of covering up symptoms for a short period of time like over-the-counter medications. Oral allergy drops provide long-lasting relief and can be administered at home, without the pain of a shot. This makes allergy drops a great option for both kids and adults!
"No more sinus headaches, infections, stuffed nose or dizziness."
Dr. Martini performed my sinus surgery, and I am very happy with the results. I feel so much better. Dr. Martini is a wonderful, very knowledgeable doctor.

V.T., Vineland, NJ
"Breathing great, sleeping great, and my wife really appreciates how less cranky I am."
I feel like a new person and in a much better mood. Thank you Dr. Martini.

T.H., Dover, DE
"I've suffered for years with nasal congestion. I've tried many different medications, with no success."
After my surgery and treatment here, I'm breathing great and have no more trouble with sinus pressure or headaches!

A.T., Elkton, MD
"My initial consultation
went great."
Everything was explained clearly to me. All of my questions were answered and my options in future treatments were explained to me. I felt like I was listened to and that the staff genuinely cared about me. I'm looking forward to coming back.

E.F., Elkton, MD
"I was miserable before the
procedure and I now have
complete relief."
I feel like a completely different person.

R.A., Elkton, MD