Sinusitis is a painful condition which occurs when the sinuses swell. When you have healthy sinuses, mucus drains and air is able to circulate, allowing you to breathe easily and comfortably.
When swelling occurs, mucus is blocked from draining, which can lead to bacteria, viruses, and fungus growth inside the sinuses, causing pain and discomfort.
The Cycle of Chronic Sinus Infection Symptoms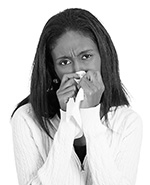 Sinusitis symptoms include:
Bad breath or loss of smell
Nasal discharge
A persistent cough
Headache and facial pain
Fatigue
Congestion
Sore throat
‍
There are three types of sinusitis which may affect patients: acute, chronic or recurrent acute.
Acute sinusitis symptoms persist for 10 to 12 days, and resolve in four weeks or less.
Chronic sinusitis occurs when symptoms persist for longer than 3 months. Symptoms of chronic sinusitis include persistent green or yellow nasal discharge, fever, waking up with puffy eyes, and a cough which worsens at night.
Recurrent acute sinusitis sufferers will experience four or more episodes or outbreaks in a single year. Periods of relief are followed by another outbreak.
"No more sinus headaches, infections, stuffed nose or dizziness."
Dr. Martini performed my sinus surgery, and I am very happy with the results. I feel so much better. Dr. Martini is a wonderful, very knowledgeable doctor.

V.T., Vineland, NJ
"Breathing great, sleeping great, and my wife really appreciates how less cranky I am."
I feel like a new person and in a much better mood. Thank you Dr. Martini.

T.H., Dover, DE
"I've suffered for years with nasal congestion. I've tried many different medications, with no success."
After my surgery and treatment here, I'm breathing great and have no more trouble with sinus pressure or headaches!

A.T., Elkton, MD
"My initial consultation
went great."
Everything was explained clearly to me. All of my questions were answered and my options in future treatments were explained to me. I felt like I was listened to and that the staff genuinely cared about me. I'm looking forward to coming back.

E.F., Elkton, MD
"I was miserable before the
procedure and I now have
complete relief."
I feel like a completely different person.

R.A., Elkton, MD